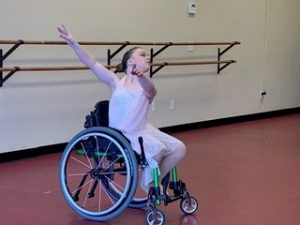 Eve is a young teen who lives with multiple conditions including Tourette Syndrome and Osteogenesis Imperfecta which limits her ability to walk. She primarily uses a wheelchair for mobility. All her conditions contribute to anxiety and impact her social skills. Because of her brittle bones, she participates in activities that are weight resisting, such as dancing. Eve attended dance classes with kids that are typically able-bodied for many years but did not receive instruction on how to incorporate her wheelchair. She adapted the dances for herself. As she advanced to higher dance levels, it was getting harder to stay in sync with her dance mates. She was introduced to wheelchair ballroom dancing and absolutely fell in love with it.
Eve greatly benefits from the many physical and emotional health benefits that dance provides.  It makes her happy and the tics stop while she is dancing. Dance also increases Eve's self-confidence and sense of self-worth!
With her increased self-confidence, Eve entered a virtual World Paradance competition – her first competition ever. There were 23 entries from across the world with women of all ages and dance experience. Eve earned 4th place!
Eve's dance instructor says, "When I first met Eve, she was a very shy and careful girl that approached conversations and situations very cautiously.  After spending several weeks being part of the dance studio and community, Ms. Eve has become more open to sharing her thoughts and feelings. She no longer holds back her thoughts in fear of people judging her for speaking her mind. Eve has shown immense growth where most people would take several weeks of learning and preparation. She has taken it upon herself to practice and rehearse all her routines at home and in every available time she has, allowing her to produce quality of dancing at a very advanced and mature level in a very short period of time. She is a role model in our Dance Mobility Program and shows a great level of artistry and eloquence."