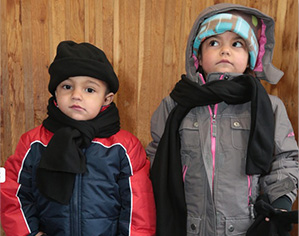 The purpose of the Ukraine Project is to help and support 500 orphans living in Beregovo camp Ukraine survive through the winter. Many children die each year due to the icy conditions
Where: Beregovo Camps, Ukraine
Key beneficiaries: At-risk children of Beregovo Camp ages 6 months to 17 years old
Projects: Ukraine Winter Project, Feed The Orphans & Beregovo Sunshine Center
Beregovo Sunshine Center
You See Construction. We See Hope, Safety, Quality, Mentorship, Opportunity, and Sustainability.
In 2013 Variety International Children's Fund Ukraine Orphans Project initiated construction of a permanent facility to provide children at risk clean water, nutritious food, warm clothing, shelter and education. The facility will have the capacity to feed approximately 200 children a day and provide basic educational instruction to prepare children to attend public school. The center is turning bleak futures on their head, allowing these children happiness and to become productive members of the community.
Ukraine Winter Project
The Gift of Warmth Brings Smiles and Hope
Temperatures in the Ukraine can plummet to minus 50 degrees, leaving orphan children living in these harsh conditions susceptible and unprotected against serious illness, hunger and exposure. An emerging catastrophe in the winter of 2012 saw Variety's International Children's Fund respond decisively to this potential tragedy with the swift provision of warm thermal jackets, clothing and shoes. This resolute action saved many children's lives.
For the world's most vulnerable children the difference between life and death is often everyday items most people take for granted. The positive impact access to clean drinking water, nourishing food, warm clothing and education makes to the future of these children cannot be overstated. Through the Feed The Orphans Project, the children of Beregovo are provided with a meal daily.