Our history
From helping one abandoned baby in 1928 grew a global children's charity, transforming children's lives around the world.
How we began
One afternoon, a group of men were playing cards backstage at a theatre
The year was 1927, the town was Pittsburgh, USA, and the 11 theatre owners and showmen were part of a social group, calling themselves the Variety Club. They heard whimpering from the auditorium of the Sheridan Square Theatre. When they investigated, they discovered a one-month-old baby girl to whom her mother had pinned a desperate note:
"Please take care of my baby. Her name is Catherine. I can no longer take care of her. I have eight others. My husband is out of work. She was born on Thanksgiving Day. I have always heard of the goodness of show business people and pray to God that you will look after her.

Signed,

A heart broken mother"
When all efforts by the police and local newspapers failed to locate the parents, the club members decided that they would act as 11 "Godfathers" and underwrite Catherine's support and education.
The little girl, who became the inspiration for our international children's charity, was named Catherine Variety Sheridan, her middle name for the club and last name for the theatre she was found in. Proud that a distraught mother had entrusted her precious child to them, the club members set out to raise money and obtain goods needed for Catherine's care. The resulting publicity put Catherine's story and Variety on the front pages of newspapers across the United States. Inspired by Catherine's story, many other people wanted to get involved and the members were soon inundated with help, far too much for one child, and thus other disadvantaged and orphaned children became beneficiaries of Catherine's "adoption" by the Variety Club members. 1928 saw the beginning of the charity, which today is known as Variety – the Children's Charity.
From the inspiration and motivation of a single child, one of the world's greatest children's charities grew—all across the globe.
Where we are today
Variety is a global network giving millions of children the gift of a future without limits
Today, Variety – the Children's Charity has a network of 40 offices in 11 countries, across North America, Europe, and the Asia-Pacific region. Like Catherine, millions of individual children around the world have been given the gift of a better life because of the generosity of Variety's donors, sponsors and supporters.
When Catherine turned 5, foster parents were selected from more than 300 applicants. Catherine's name was changed by her new parents, Gladys and Norman Riker, to Joan Riker and she grew up away from Pittsburgh to preserve her anonymity. Maturing into a fine young woman, Joan married in 1957 and raised her own family, sons Michael and twins Richard and Robert and a daughter, Lisa. Graduating as a nurse from Cornell University in 1951, Catherine/Joan spent a good part of her time proudly working with children.
Catherine/Joan passed away on September 9, 1994 at age 65, but her inspiration and motivation to help children in need burns brightly today through Variety – the Children's Charity. John Harris, who owned the Sheridan Square Theatre, went on to become the first president of Variety – the Children's Charity International.
History lives on
A word from Michael, Catherine's son who still works with Variety in Texas
My Mother's legacy has to do with one vision – keep all children safe and provide an environment for them so they can grow! Mom was an educator 24/7 and always teaching us life lessons so we could pass those onto our children. Her nurturing and compassion gave me the opportunity to continue with her legacy. I have been involved with Variety for over 11 years and want the younger generation to continue with us. The children's lives are impacted each day when I see a smile on them because a gift of mobility or assistance is provided. Providing every child with equality and a limitless future is fundamental in helping those families that need Variety's services. So, Variety's vision must go on and drive change throughout the world.
"To be the most trusted and effective children's charity in the world by delivering every child equality and a future without limits."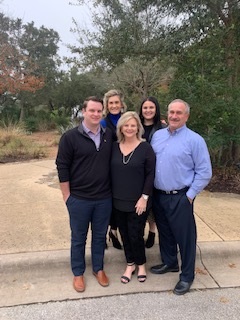 Who we help
Variety transforms the lives of children around the world who are sick, disadvantaged, or live with disabilities
Unlike most charitable organizations that focus on a single disease or area of need, Variety focuses on multiple unmet needs of children who are sick, disadvantaged or live with disabilities and other special needs at a local, national and international level.
Our aim is to maximize the real, long-term positive social impact for all children.
Variety welcomes the support of any individual and corporation who shares our ideals and objectives, and is committed to transforming the lives of children around the world.
Through Variety, "be the change you wish to see in the world" (Mahatma Gandi).
Variety has its roots in the entertainment industry, but its heart is the community. People from all walks of life can contribute and experience the joy of helping a child, confident that their generosity has real impact and results in markedly improving a child's future and making the world a better place.